LAKE BUENA VISTA, Fla. – Day 3 of practices preparing for the Under Armour Next All-America Game on Tuesday came to a close with Team Speed gelling. The quarterbacks were getting their timing down with the receivers and the offensive line was opening holes for the tailbacks. The one-on-ones with the defense provided multiple takeaways from Sunday's practice.
Lucas Simmons makes a statement
Florida State signee Lucas Simmons had a good day during one-on-ones. The four-star offensive tackle held his own against Samuel M'Pemba and won his reps against Chadavian Bradley. When the team went into the inside run session, Simmons did a great job sealing off the edge and with his down blocking. When the offense opened up in the red zone passing situations, Simmons' pass-pro was on point.
SHARE YOUR THOUGHTS WITH FSU FANS AT THEOSCEOLA.COM
*****
More gas in the tank for Dylan Edwards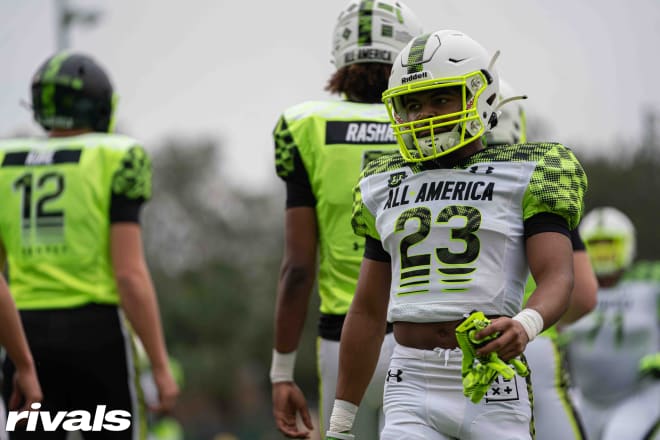 A day after Edwards won the UA Next fastest man competition against Nyckoles Harbor dropping a 4.42 laser timed run, the Colorado signee still had speed to burn with more gas in the tank.
Edwards has great explosion and footwork going through drills which showed in live action against the defense. When he gets a crease, his field vision and burst take over, showing why he was rated one of the nation's best tailbacks.
SHARE YOUR THOUGHTS WITH COLORADO FANS AT CUSPORTSREPORT.COM
*****
Michael "Mikey" Matthews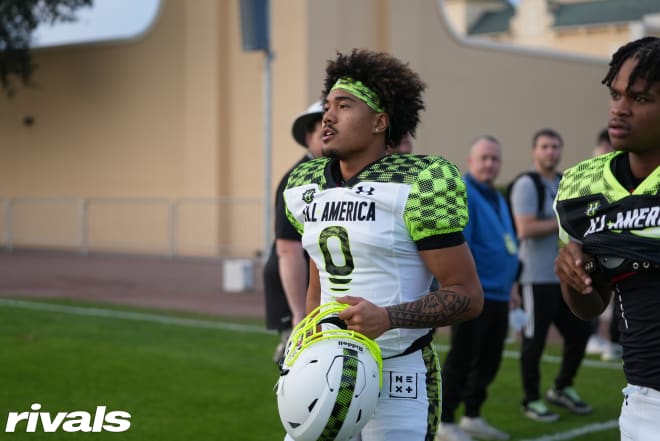 College teams that passed on going after Mission Viejo (Calif.) receiver Mikey Matthews are going to regret it. Utah has an explosive inside receiver heading its way, one Team Speed defenders are having difficulty keeping up with. Matthews' routes are sharp with the ability to stop on a dime, change direction and get back into his pattern without missing a beat.
During the team session, Matthews got a passing TD in connecting with Jackson Arnold on a reverse, hitting the four-star on a … let's call it a shuffle pass … in the left corner of the end zone. The touchdown brought the house down.
SHARE YOUR THOUGHTS WITH UTAH FANS AT UTENATION.COM
*****
Skill position notes
Ryan Yaites got a pick early in the practice session going against Arnold and Jacobe Johnson had a nice pass breakup against the four-star OU signee. … Noble Johnson continued to demonstrate his talents, getting a TD reception working against Ethan Nation. ….
Linebacker Jaiden Ausberry also got into the pick game during the red zone session. …. Elliot Washington and Cormani McClain had good days covering receivers. ….
During the inside drills, Richard Young had some big runs off great cuts leaving linebackers behind him. …. Tailback Ja'Vin Simpkins had a nice TD reception in the red zone as well.
*****
Rueben Bain sliding around the defensive front
Fans accustomed to seeing Rueben Bain at end may get something extra on Tuesday. Running a four-man front, Team Speed slid Bain down to tackle during Sunday's practice. For those not in the know, the move is not off base for Bain. Opening the 2022 season against IMG Academy, Miami Central moved Bain to tackle late in the game which resulted in three sacks for the four-star.
Bain continues to demonstrate his talents off the line, winning reps in one-on-ones and in live action. Miami fans have to be excited about the versatility he is bringing to the roster.
SHARE YOUR THOUGHTS WITH MIAMI FANS AT CANESCOUNTY.COM
#Game #Team #Speed #takeaways #Day