Delicious and nutritious, these banana protein bars are the ultimate best no-bake snack for when you need a little pick-me-up before or after your workouts, in between your meals, and on days when you need to eat something on the go.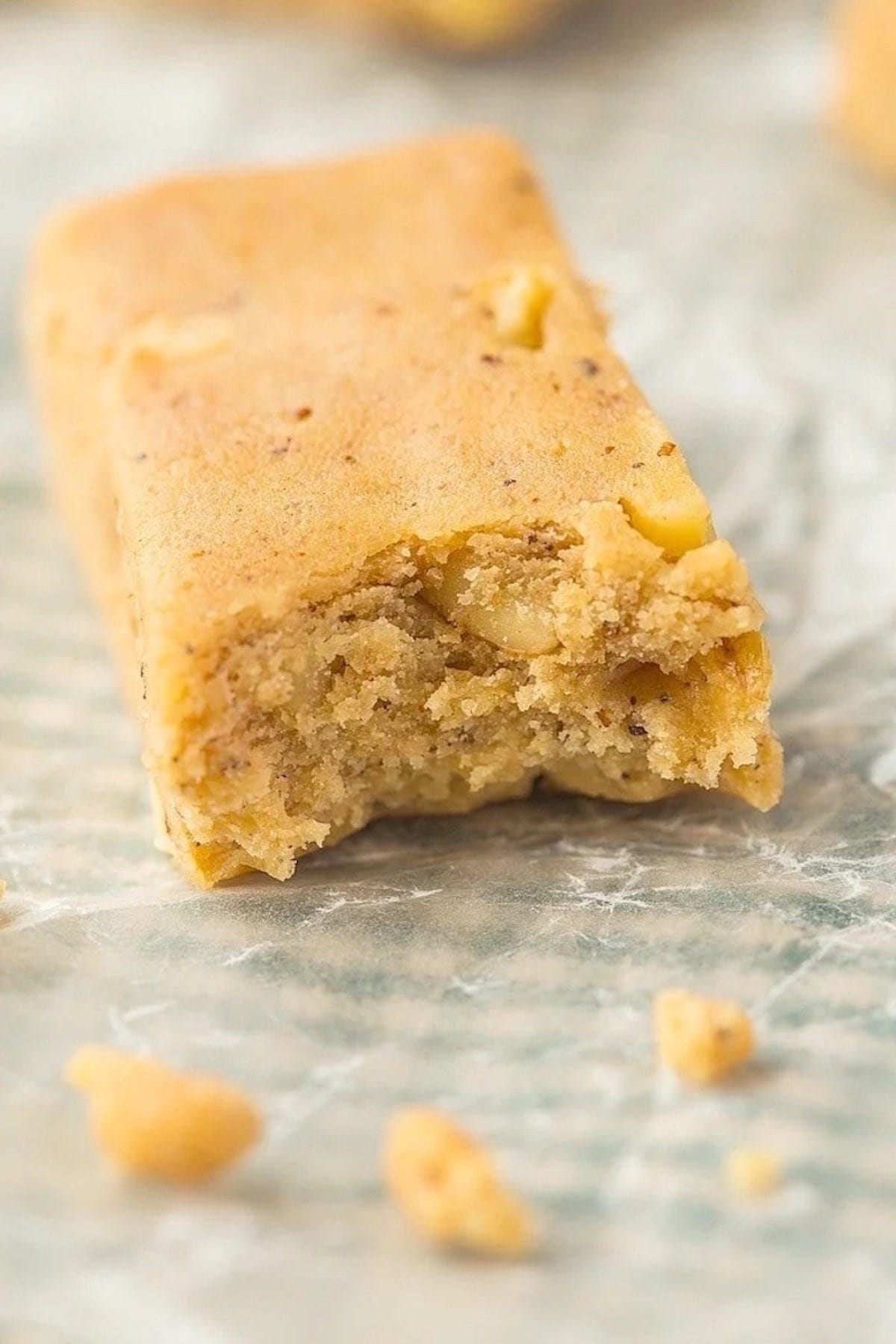 Buying protein bars is certainly a lot easier. However, many protein bars on the market contain unwanted additives. 
We always make our own, including cinnamon protein bars, paleo protein bars, and these banana-flavored ones! 
Why you'll love this recipe
Less than 10 minutes to make. Healthy treats shouldn't take a lot of time to prepare. You will need less than 10 minutes to whip up these protein bars.

 

A no-bake recipe. Despite the fact that you don't need to bake these protein bars, they turn out to have the perfect texture. They are irresistibly soft!
Highly nutritious. These banana bars provide you with a good amount of protein and fiber. They don't contain any added sugar and are completely vegan and gluten-free.

 
If you are looking for a new pre- or post-workout snack, give these banana protein bars a go. They are incredibly easy to make and provide you with enough protein to fuel your body when needed. 
Ingredients needed
Coconut flour. Works perfectly for no-bake recipes and gives the bars a cake-like texture.

 

Oat flour. Similar to coconut flour, it is completely safe to use oat flour in no-bake recipes. Y
Protein powder. Use vanilla-flavored protein powder as it adds sweetness, along with a lovely subtle vanilla flavor.

 

Brown rice syrup. To sweeten the bars and help all ingredients stick together.

 

Cinnamon. To add extra flavor to these banana protein bars.

 

Almond butter. Homemade or store-bought. If you don't have almond butter, use any other nut butter.

 

Banana. Mashed.

 

Nuts. Chopped nuts of your choice.

 

Milk. Any milk will work.

 

Granulated sweetener (optional). Use it if you want the protein bars to be sweeter.

 
How to make banana protein bars
These no-bake banana protein bars are so easy to make that you will never get back to store-bought protein bars again. 
Step 1 – Mix the dry ingredients
In a mixing bowl, combine the flour, protein powder, and cinnamon, and mix well. Add the granulated sweetener too if you are using any. 
Step 2 – Add the wet ingredients
Microwave the nut butter and brown rice syrup until fully melted. Add this mixture and the mashed banana to the dry ingredients and mix well until fully combined. At this point, the mixture should have a crumbly texture. Stir in the chopped nuts. 
Add the milk tablespoon by tablespoon and keep mixing until a firm batter is formed. 
Step 3 – Press the mixture into the pan and allow it to set
Transfer the mixture to a greased baking dish and press firmly. Refrigerate for 30 minutes or until set. Slice into bars and enjoy. 
Tips to make the best recipe
Depending on the size of the bananas, the final mixture may turn out too thin to form bars. If this happens, simply add more flour to thicken it.

 

If you don't have brown rice syrup, use pure maple syrup instead. Pure brown rice syrup is a good option for chewier bars.

 

In case you are not using any chopped nuts, use chunky nut butter instead for some crunch.

 

Top the bars with dark chocolate chips or drizzle them with melted dark chocolate to make these snack bars even better.

 

Mix plain Greek yogurt with vanilla protein powder to make the perfect icing for these no-bake protein bars.

 
Storage instructions
Store these no-bake banana protein bars in an airtight container in the fridge for up to a week. Wrap the bars in parchment paper for an easy grab-and-go treat.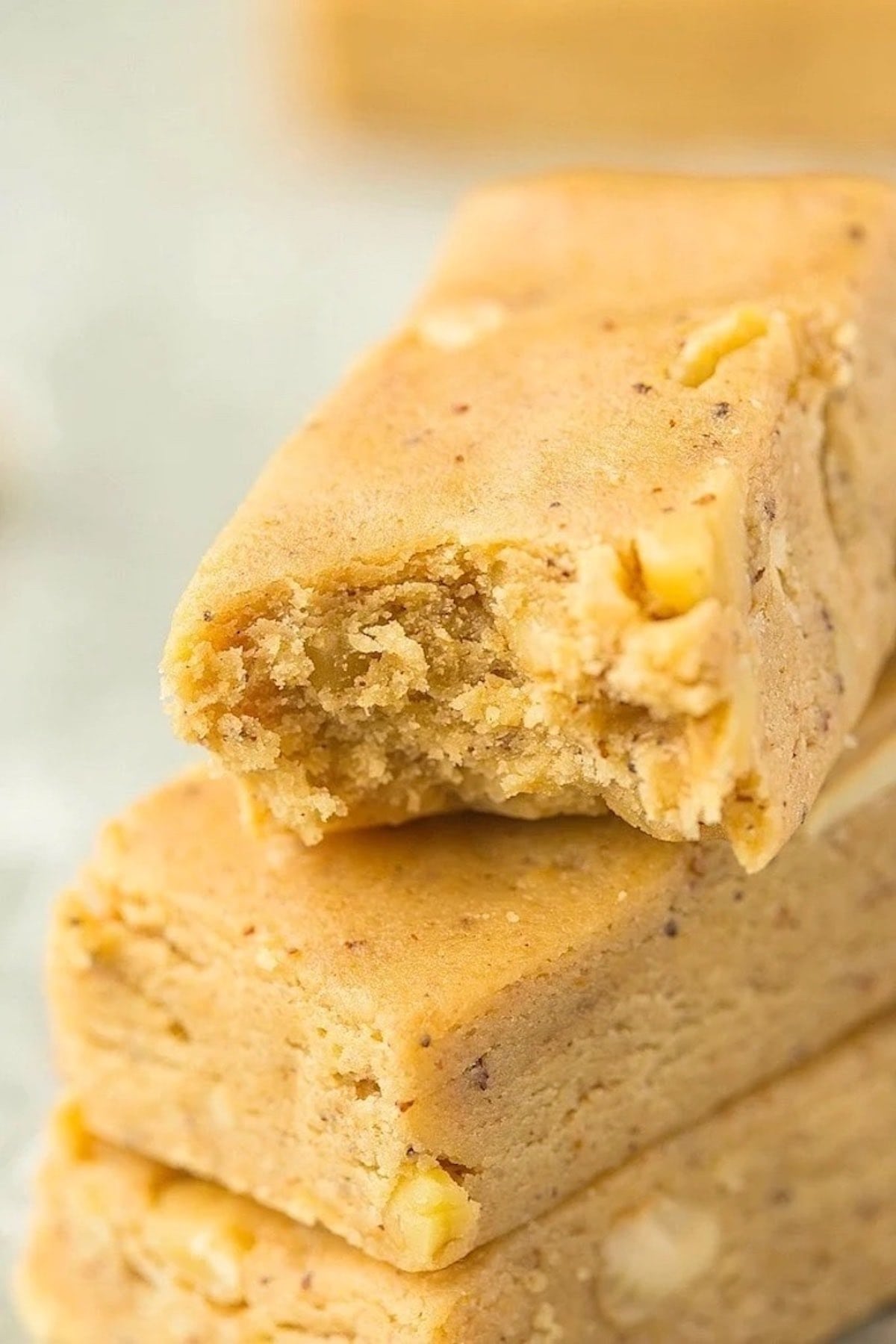 More protein bar recipes to try
Frequently asked questions
Can I substitute the banana?
If you don't have fresh bananas, feel free to substitute them with banana-flavored baby food. 
Can I freeze these?

 
Freeze leftover protein bars in a ziplock bag. They will keep well for up to 6 months. 
Banana protein bars Calories
There are 198 calories in each protein bar.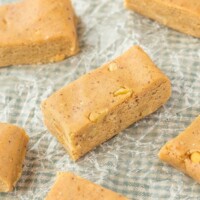 Line an 8 x 8-inch baking dish with parchment paper and set aside.

In a large mixing bowl, combine the flour, protein powder, sugar and cinnamon, and mix well.

In a microwave-safe bowl, combine the almond butter and brown rice syrup and heat until melted. Pour the wet mixture into the dry and mix well. Add the banana and mix until combined. Stir through nuts if desired. Using a spoon, add the milk one spoonful at a time until a thick, firm batter is formed.

Transfer to the lined baking dish and press down firmly. Refrigerate for at least 30 minutes, before slicing into 12 bars.
TO STORE: Leftovers can be stored in the refrigerator, covered, for up to one week.
TO FREEZE: Place the set bars in a ziplock bag and store them in the freezer for up to 6 months. 
Serving: 1bar | Calories: 198kcal | Carbohydrates: 31g | Protein: 8g | Fat: 6g | Sodium: 38mg | Potassium: 165mg | Fiber: 4g | Vitamin A: 7IU | Vitamin C: 1mg | Calcium: 70mg | Iron: 1mg | NET CARBS: 27g
#Banana #Protein #Bars #Big #Mans #World